Overview
Distech Controls has taken an innovative approach to designing user experiences: from delivering unique productivity enhancing tools, to intuitive, engaging interfaces. Now combined with the mobile connectivity and familiar interface of an app, these offerings increase productivity for system integrators and control technicians, provide value for building managers, and personalized comfort for occupants.
MyDC Control App
he myDC Control app works with the ECB series BACnet® and ECL series LONWORKS® controllers' operating under an EC-NetAX™ system. In addition, the myDC Control app allows you to connect directly to an ECLYPSE Connected System Controller, for a complete standalone solution. Quickly view, edit, and configure operating parameters of an HVAC system; while the color-coded icons provide at-a-glance indication of alarms and override conditions.
Onsite Commissioning Efficiency Increased by Up to 20%:
Test and commission HVAC systems single-handedly, View, set, and override values of inputs and outputs while being next to the equipment being commissioned to verify and troubleshoot equipment operation first hand. Test connected sensors and actuators. Reduce the time and costs associated with commissioning systems.
Quality Service and Improved Response Time – Anytime, Anywhere:
View alarms, perform diagnostics and take corrective actions such as overriding a sensor, pump, fan, or changing a setpoint or occupancy. Follow up after having performed maintenance or corrective actions to ensure correct operation has been restored. Reduce the need for onsite visits and the associated costs of time and travel.
Smart-Sense Room Control App
With the Smart-Sense Room Control app, occupants can view or set comfort parameters at all times, from the convenience of a smartphone or tablet. The Smart-Sense Room Control app is a unique way to deliver an intuitive interface for the occupants of your clients' modern buildings.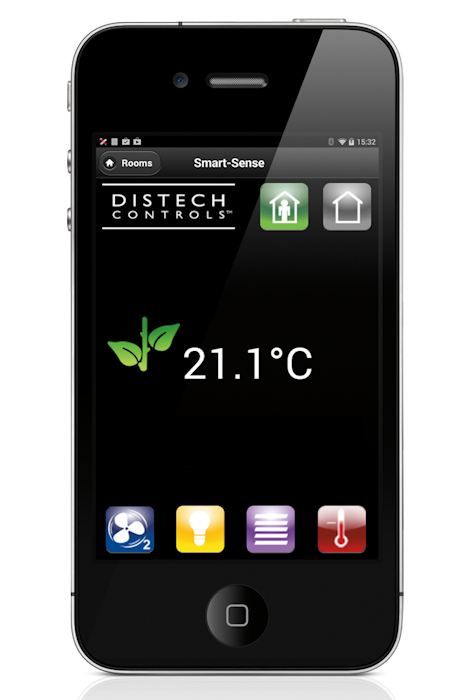 Personalized Level of Comfort
Using an interface which is familiar to them, occupants can achieve a personalized level of comfort in their commonly used spaces (offices, conference rooms).
Studies have demonstrated an increase in employee productivity of an additional 9%, when occupants were provided with control over their environmental settings
The app contributes to making "buildings greener", as it addresses the requirements of LEED® Credit 6.2: Controllability of Systems - Thermal Comfort.
Features the innovative ECO-Vue™ leaf pattern, engaging occupants and promoting energy efficient behaviors.  The leaf pattern provides immediate real-time visualization as to the energy efficiency of a setting.  Providing immediate direct feedback can increase energy efficiency up to 15%